Webinars
Your Credit Union Beyond 2020: Top Seven Drivers of Success
You are in the business of helping consumers with their financial journeys. You are also seeing a paradigm shift in the way your members interact with you. Your competition is relentless and regulation abounds. Consumer expectations are being driven by innovation. And, all along your financial institution needs to be profitable.
Register for the webinar: http://info.onapproach.com/your-credit-union-beyond-2020-top-seven-drivers-of-success
Seven critical elements are going to define your foundation for success beyond 2020:
1. Transformed Branch Experiences – How can you draw members in for advisory versus transactional services? How do you get your members to transact online?
2. Redefined Future Payments – What can you do to leverage payments to acquire more members, increase share of wallet, and earn more than just interchange income?
3. Digital: Integrated & Responsive – Is your future digital strategy defined to be more like FinTech? Is digital giving you the competitive edge you deserve?
4. Security: Authentication, Transactions, Information – What would it take to create an omni-channel shield? Where are you most vulnerable?
5. Smarter Employees & Channels – How are you training your channels, especially your people channel? Is your training effective?
6. Big Data, Decision Science, & the Cognitive Cloud – How can your financial institution leverage the success of big data and analytics? What do you do with this data?
7. Banking Delivered in Your Pocket – What would it take to create a completely mobile experience? Your future is literally in your hand.
Analysis from a survey of over 9000 financial institutions, focus group discussions with more than 300 senior financial executives, and a look at leaders across the globe gives us a lot to think about. Join us for a prescriptive session as we define a blueprint for success.
This 60-minute discussion will highlight the key challenges you face, provide anecdotal case studies from around the world, and provide you with the right questions to ask as you define your roadmap for success.
When
Thu, Jul 26, 2018 1:00 PM – 2:00 PM CDT
Register now: http://info.onapproach.com/your-credit-union-beyond-2020-top-seven-drivers-of-success
Storytelling with Visualization
Volume of data has been increasing exponentially at credit unions and data science is being used to make strategic sense of this data. Dashboards are being used to understand what the data is suggesting. This webinar unlocks the power of visualization in data science and helps you learn how to implement the optimum visualization tools at your organization. The session would include:
Journey from Raw Data to Visualization

Analytics vs Visualization

3S's of Visualization – Standard, Simple & Scalable

Keys to Creating Effective Dashboards

Visualization Case Studies
When
Tuesday, Jul 31, 2018 1:00 PM CDT
Register: https://zoom.us/webinar/register/9215314951754/WN_yu-1HovWT8mBEdJJkV7xsw
Featuring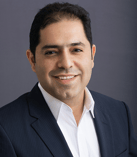 Karan Bhalla
Karan, CEO of CU Rise Analytics, brings with him almost two decades of financial services and data analytics experience. After having worked & consulted at multiple leading corporations such as Capital One, AmEx, BT and Fannie Mae; for the last 6 years Karan has shifted his focus towards helping mid & small financial institutions that urgently need to leverage data science to compete with their much larger competitors. He has deep subject matter expertise and has spoken at many occasions including Culytics, Co-op's Summit, Predictive Analytics World, Western Independent Bankers, NWCUA, CCUL's Reach, to name a few. Prior to CU Rise, Karan was the Managing Director at IQR (now EXL) where he was instrumental in leading their teams, expand their expertise and building businesses in numerous market segments. He is a MIS and Accounting graduate and has an MBA in Finance from the University of Maryland. When not working Karan can often be found outdoors spending time with his sons.
Vice President, Business Development @OnApproach
Austin joined OnApproach in 2013 as a Business Development Analyst and is now currently Vice President of Business Development. He is responsible for developing marketing strategies, driving prospects to contract award, building and maintaining high-level relationships with current and prospective clients and strategic partners, and elaborating business development plans that support business growth. Austin is an alumnus of Gustavus Adolphus College in Saint Peter, MN. He graduated Gustavus Adolphus College with a B.A. in Financial Economics. Austin writes extensively on the topics of Big Data & Analytics, and Financial Technology (Fintech) for both the OnApproach company blog and other industry trade publications, such as CUInsight.
---
Conference
Visit http://www.axficonference.com/ for updates on the 2019 AXFI Conference.
---